EL COLEGIO BASE, una vez más vuelve a clasificarse como uno de los mejores colegios de España.
Según señala el periódico El Mundo, nuestro colegio se encontraría en la posición nº 10 de España y la posición 4ª dentro de la Comunidad de Madrid. Este resultado refleja un gran ascenso frente al ranking anterior en 2019, escalando así 3 posiciones por encima.
Así mismo, según señala el periódico El Español, apunta al Colegio Base dentro de los 50 centros más sobresalientes de España.
Estos excelentes resultados nos confirman que vamos siguiendo la buena dirección en el uso de metodologías eficaces obteniendo unos resultados educativos consolidados.
Gracias al esfuerzo realizado por todo el personal del Centro, así como el apoyo de las familias, hemos conseguido un año más estar dentro del ranking de los 10 mejores colegios de España.-
Desde Innova International, unidad internacional que da soporte al grupo, nos sentimos orgullosos de pertenecer a uno de los mejores colegios de España.-
La educación supone el pilar y sustento del futuro de nuestros alumnos.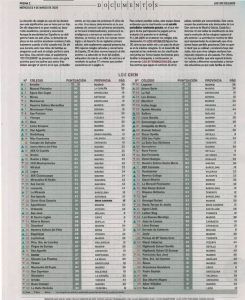 Once again, Colegio Base School has been chosen as one of the best schools in Spain.
According to the annually rankings by the Newspaper El Mundo and El Español, Colegio Base is been ranked within the best top 10 schools of Spain.
Our school is been placed in position number 10th of Spain, and position number 4th within the Community of Madrid.
This magnificent position obtained is the result of many efforts since previous ranking in 2019. This result reassures us that we are growing in the wright direction.
Innova International, the international department of the school, is very proud to belong to one of the top 10 schools in Spain.
Education is the pillar and the support for our student´s future.