INNOVA INTERNATIONAL takes off with a new name in the new year and lands at the first ICEF L.A event for Secondary School internationally.
This first annual ICEF Secondary Education event offered us the opportunity to meet specialized agents with interest in private schools in Spain.
One by One, we met with a total number of 27 agents, most of them in search of schools for international students during junior and High School stages.
We also had the opportunity to visit such a magnificent city full of charm and magic.
It felt like a Hollywood movie and the name of the movie would be «INNOVA INTERNATIONAL in L.A with 27 agnnoo-«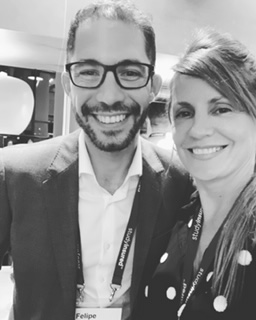 INNOVA INTERNATIONAL despega con nuevo nombre en el nuevo año y aterriza en el primer evento de ICEF L.A para Secondary School a nivel internacional.
Este primer evento anual de Educación Secundaria de ICEF nos ofreció la oportunidad para conocer a agentes especializados e interesados en colegios privados en España.
Uno a Uno, nos reunimos un total de 27 agentes la mayoría en búsqueda de colegios para etapas junior y High School de cara a sus alumnos más internacionales.
Tuvimos además la oportunidad de conocer una magnífica ciudad llena de glamour y encanto tal cual nos reflejan las películas Hollywoodienses.
Aquí dejamos algunas instantáneas del evento!!!
¡Suscríbete a nuestro Blog!
* indicates required Email Address * First Name Last Name